Give Your Child the Best
Childcare at Shanty Creek
Available at the The Lodge at Cedar River
• Tuesday - Saturday 8:30am-4:30pm
• Ages 3 months to 5 years

• $70/full day; $40/half day (8:30am-12pm or 12pm-4:30pm)
• Includes snack; lunch can be added for an additional fee.
• Reservations required by 4pm the prior day; cancellation fee may apply.


For reservations, call (231) 533-7011.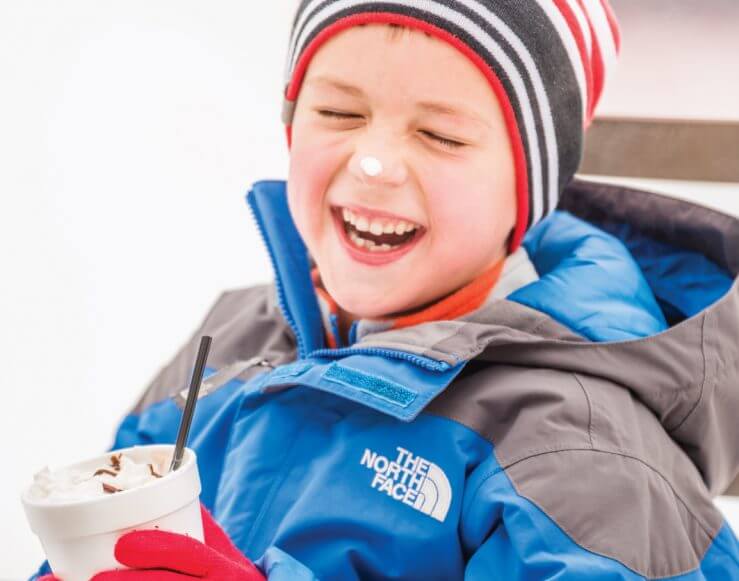 Daily Schedule
| | | |
| --- | --- | --- |
| 8:30am-9:15am | Meet & Greet/Free Play | |
| 9:15am-9:30am | Clean Up | |
| 9:30am-10:00am | Story Time (Group Reading) | |
| 10:00am-10:30am | Small Group (Play Doh, Puzzles, Painting) | |
| 10:30am-10:45am | Clean Up | |
| 10:45-11:00am | Snack (Provided by Resort) | |
| 11:00am-11:30am | Large Group (Dancing, Balls, Group Games) | |
| 11:30am-12:00pm | Free Play | |
| 12:00pm-12:15pm | Clean Up | |
| 12:15pm-12:45pm | Lunch | |
| 12:45pm-1:15pm | Story Time (Group Reading) | |
| 1:15pm-2:45pm | Nap/Rest Time | |
| 2:45pm-4:00pm | Free Play | |
| 4:00pm-4:15pm | Cleanup | |
| 4:15pm-4:30pm | Parent Pickup | |
FAQs: Daycare (Hours, Rates & Location)

What are the rates?
Full Day (8:30 am – 4:30 pm) $70
Half Day (8:30am – 12:00 pm or 12:30pm-4:30pm) $40
How is payment accepted?
Daycare will accept payment on-site by credit card or a Shanty Creek Resort room charge.
Do you charge late fees?
A late fee of $1/minute will be charged every minute you are late, in addition to the hourly rate. Please call at least one hour before scheduled pickup and extend your reservation to avoid these charges. Extensions will be granted only if space allows.
What is your cancellation policy?
Please call at least 24 hours in advance to change or cancel your child's reservation to avoid a charge of $35/child.
Is after hours babysitting available?
Upon request and availability.
Where is the Daycare located?
Our daycare center is located on the 2nd Floor of The Lodge at Cedar River.
(2400 Troon S; Bellaire, MI  49615)
FAQs: Daycare (Meals & Snacks)
Are kid's meals available?
Yes, with an additional charge of $8 per meal at the parents request.
Can I bring my child's own meal?
Yes!
How are food allergies handled?
Please let us know what your child's allergies are, and the proper safety precautions will be taken.
If I order food for my child how will their food allergies be handled?
When you arrive at day care, you may look at the children's menu and select a meal that is best fitting for your child.
Is there a snack provided?
Yes, a small snack is provided in the morning and afternoon.
FAQs: Daycare (What to Bring)
What should I bring for my child?
Please bring enough diapers, wipes, clothes, bottles for the hours your child will be in care. If it is necessary, please bring a sippy cup, favorite blanket, or stuffed animal.
FAQs: Emergencies

What happens if there is an emergency?
Our staff is CPR and first-aid certified.
We will verbally notify parents of any injuries to the child at the daycare. The accident report kept on file will include information such as where, how, and when the accident occurred, and what staff was present and any treatment given.
In the event of a more serious medical emergency, we will first attempt to contact a parent about where the child should be transported for care (doctor/hospital).  If necessary, the child will be transported to Munson Medical Center Emergency Room located in Traverse City.
For complete details on daycare or to make reservations,
call (231) 533-7011.