If skiing and snowboarding aren't your thing…
Don't worry, there are still plenty of ways to play in the snow.
Alpine Tubing
LOL Literally
Hear the sounds of laughter from Summit Mountain's Alpine Tubing Park. Experience the thrill of sledding without having to climb back up!
• Friday evenings, Saturdays, Sundays, and holidays
• Each session begins at the top of the hour
• Tickets are $15/hour; $25/2 hours
• Tickets purchased online must be 48 hours in advance
• Must be 36″ tall to participate
• Participants must sign a release of liability form
Buy Tickets Online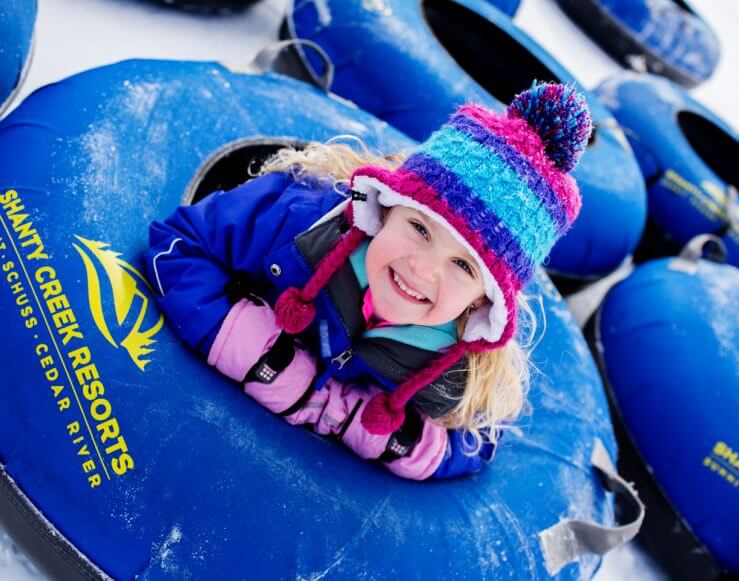 Snowshoeing
Forge Your Own Trail
Slip 'em on and start walking. That's all there is to it. Forge your own trail (the trail less traveled is the one you make!), or head over to the groomed 3km multi-purpose trail at Schuss Village.
Rental equipment is available from the Nordic Center at Schuss Village.
View Rental Pricing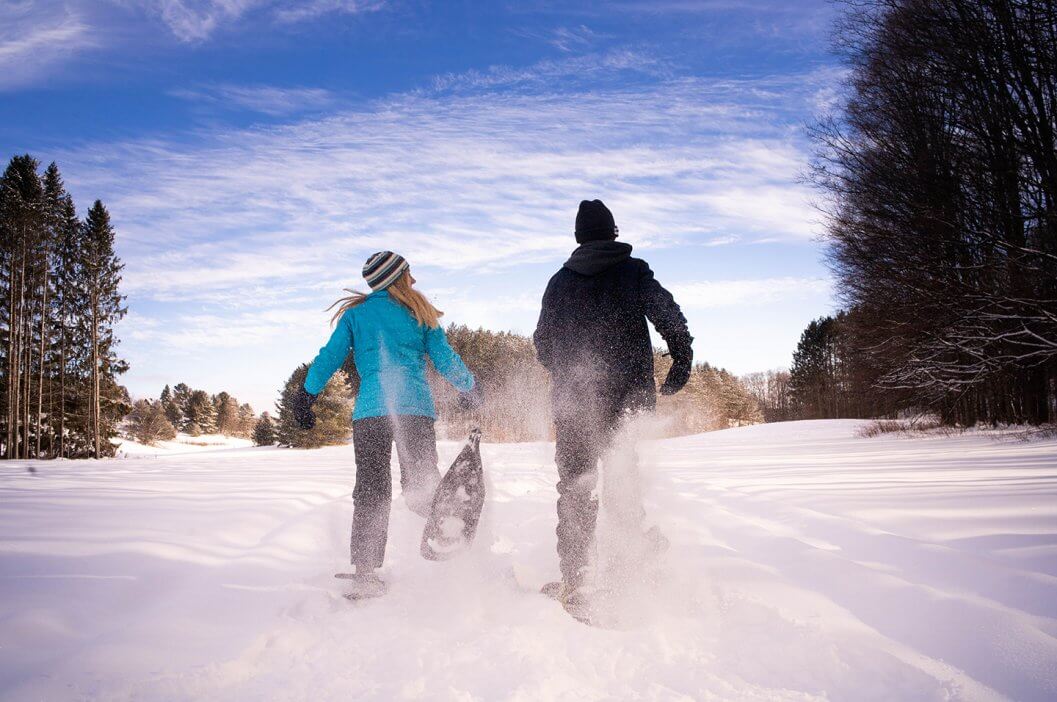 Dogsledding
Mike King's Pets That Pull are not only lovable and beautiful huskies, they also give dogsled rides for children (under 100lbs) on Saturday afternoons (4-6pm) and Holidays (4-6pm).
Children's dogsled rides are 15 minutes. $15/ride, trail conditions dependent. To schedule your ride or for more information, contact the Schuss Mtn Nordic Center at 231-533-3000; 3300.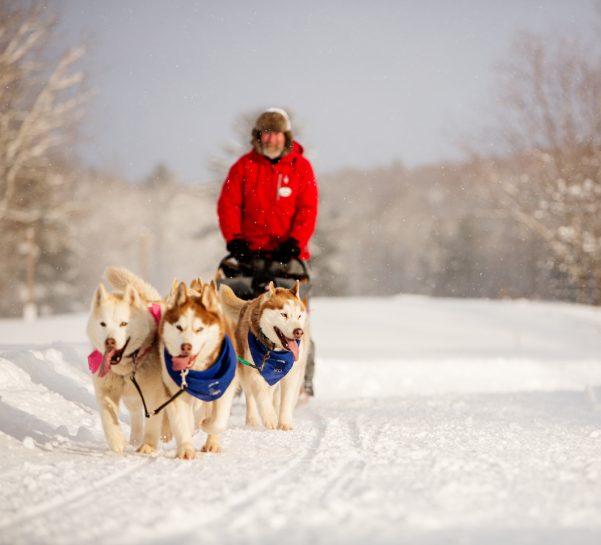 Dogsledding
New! Dogsled Rides for Adults
Sarah Dobbrastine's Second Chance Mushers will be on-site at Schuss Mountain. Travel along the landscape of Schuss Mountain's golf course with majestic views of Schuss Mountain. Each is $65/ride, Ride options include: 1 adult, 1 adult and 1 child, or 3 children; each with max weight of 200lbs. Trail conditions dependent.
• Fridays: 6-8pm
• Saturdays: 11am-1:30pm
• Sundays: 11am-1:30pm
To schedule a ride, contact the Schuss Mtn Nordic Center at 231-533-3000; 3300. Note: A signed liability release form will be required prior to all rides. Riders under 18 years of age will require an adult/guardian to sign.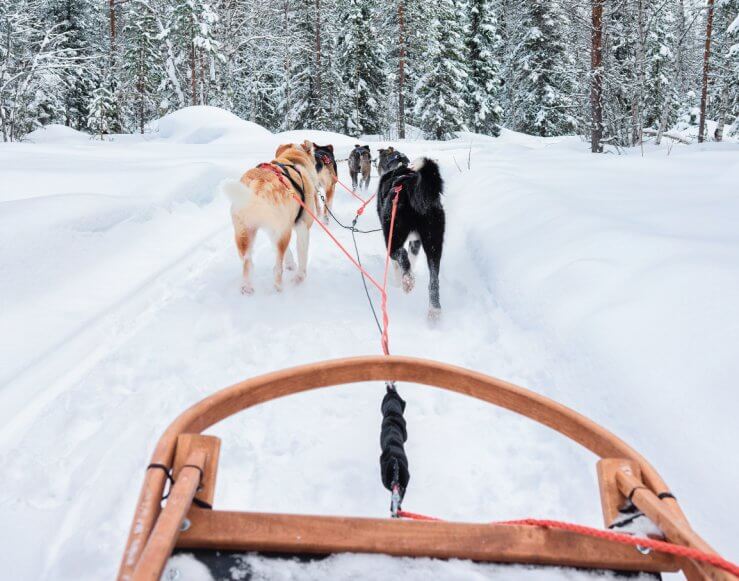 Fat Tire Biking
Ride On
If you haven't already, maybe it's time to give fat tire biking on snow a try? Our 3km multipurpose trail at Schuss Village is packed for fat tire biking, snowshoeing, or even walking your dog.
Contact our friends at Paddles & Pedals in downtown Bellaire for fat bike rentals at 231-533-4449.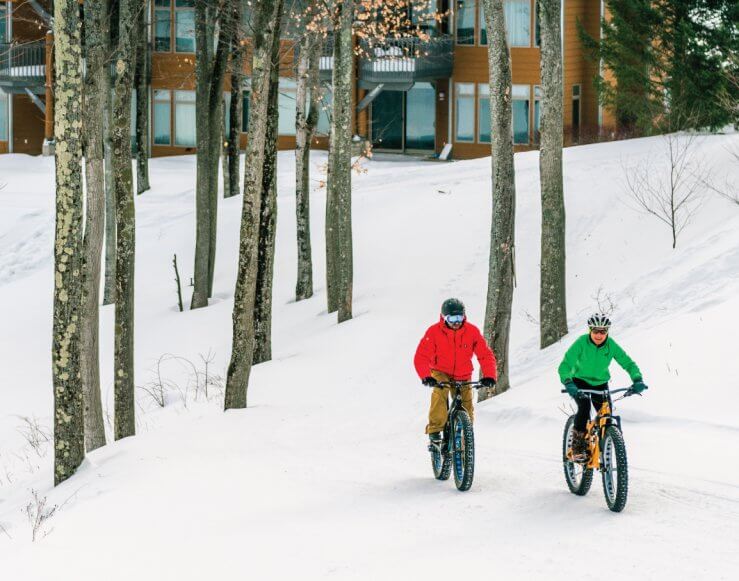 Snowmobiling
Jordan Valley Trail System
Guests of Shanty Creek Resort looking for trails of another variety are often very pleased to learn the Jordan Valley Trail System is just a few miles from Schuss Village, and from there Pure Michigan awaits.
If you don't have your own, several outfitters can hook you up including Snowblitz and Blue Sky Rentals.